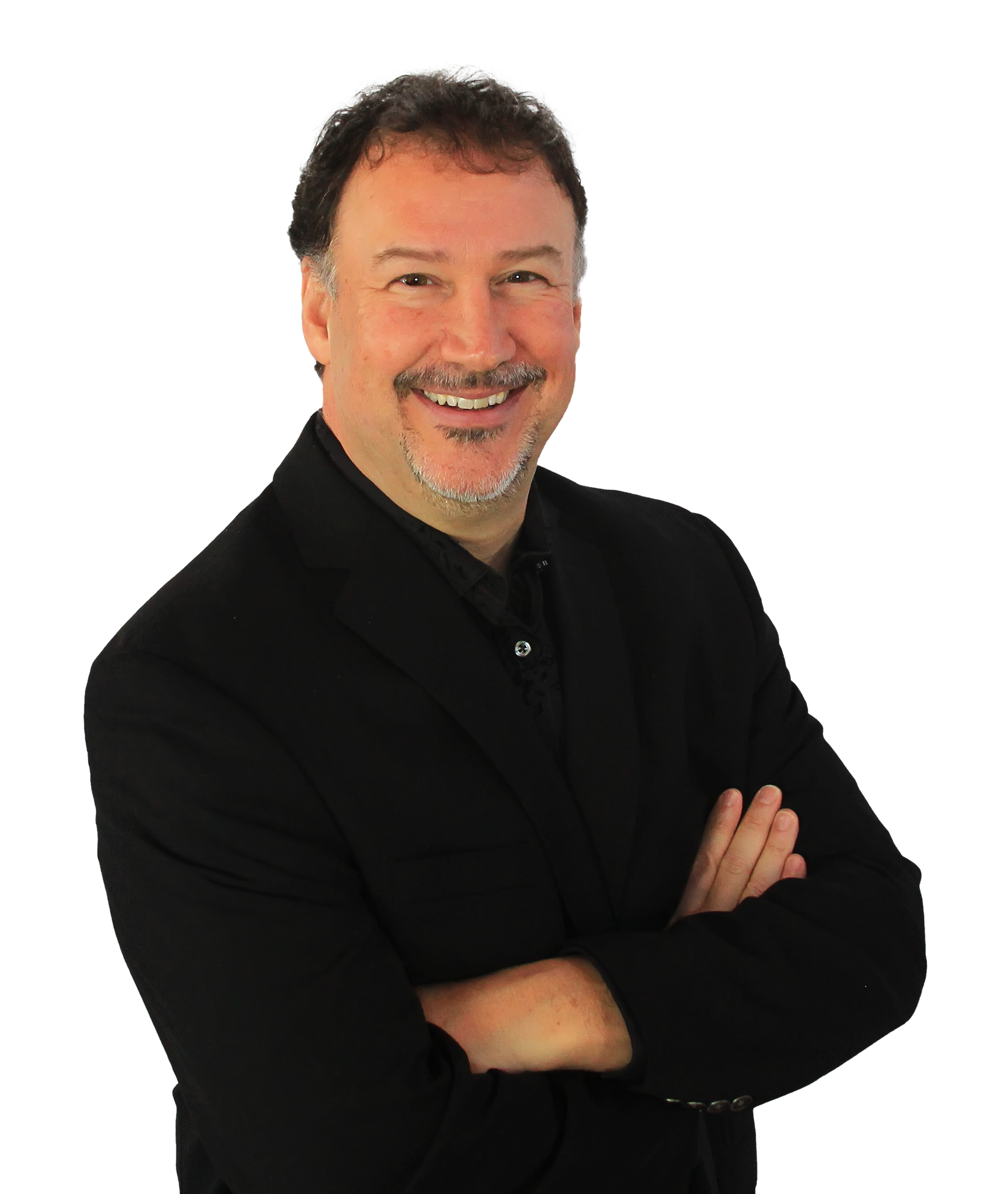 "My New Book Reveals 51 Time-Tested and Proven 'Free Book' Marketing Tactics That Work for Any Type of Business to Attract New Customers! Get a Copy for FREE, Just Pay for Shipping."
Dear Friend,
First off, I want to thank you because if you are reading this page, it means you have invested in at least one of my other short, helpful books (shooks).
I appreciate your interest in what I have to share, and I hope I have been able to offer you valuable ideas and things to consider regarding your own book.
The Magic of Free Books is a unique book. I wrote it because I could not find any other book out there that focuses on HOW TO MAKE MONEY WITH A FREE BOOK.
For over 100 years, smart marketers have understood the power of a free book marketing strategy and used it to attract ideal customers to their businesses.
Marketing with a free book is not some social media fad or scheme. It is a PROVEN and EFFECTIVE way to help others first and make money second.
I am an avid student of this type of marketing and wanted to curate a collection of the most effective tactics to profitably leverage a free book marketing strategy for myself, my clients and now you.
Who Should Read This Book?
The Magic of Free Books was written for business owners who have authored a nonfiction business book designed to share helpful information, promote themselves and their businesses, and plan to give it away for free to targeted consumers.
These owners run traditional, face-to-face businesses, and their focus is not on writing books as their main "gig." Specifically, I am referring to:
Local, consumer-focused (B2C) business owners, such as dentists, retailers, physicians, lawyers, etc.

Global business-to-business (B2B) business owners, such as company executives, consultants and coaches, etc.
These types of business owners are not interested in selling their books as the primary way to make money with them, but instead, they are focused on getting their books into the hands of as many "ideal readers" as possible, typically, with a free book offer.
These types of business owners use books as conversation starters and then effective follow-up marketing to get readers to become customers.
So, if who I just described sounds like you, then this book was written FOR YOU!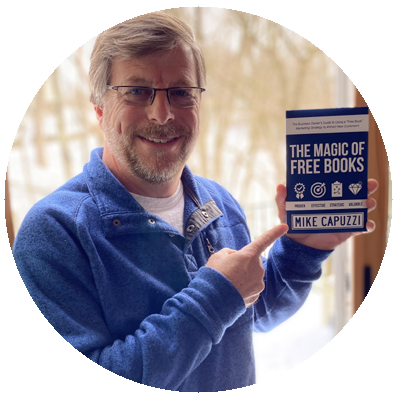 "Packed with smart ideas!"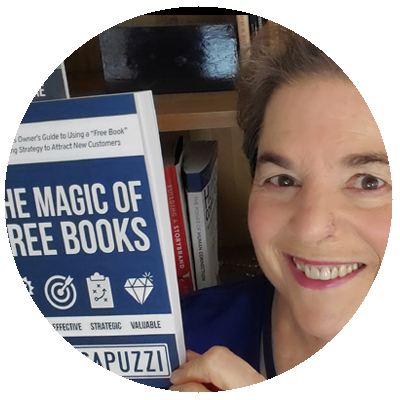 "Mike makes the process EASY!"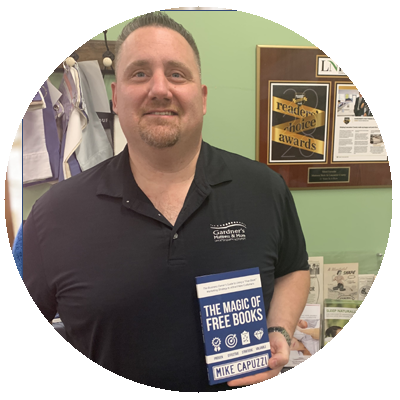 "Got several new ideas to try."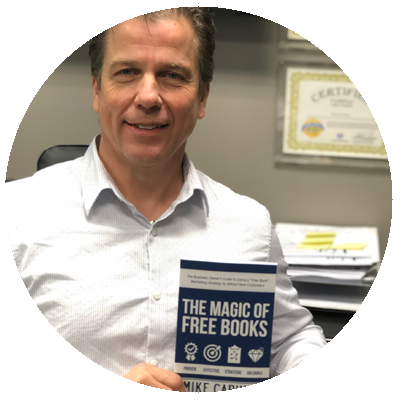 "Rocket fuel for your book!"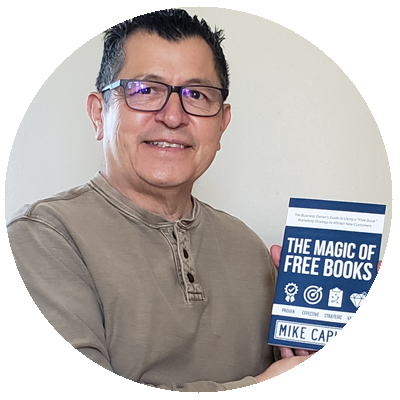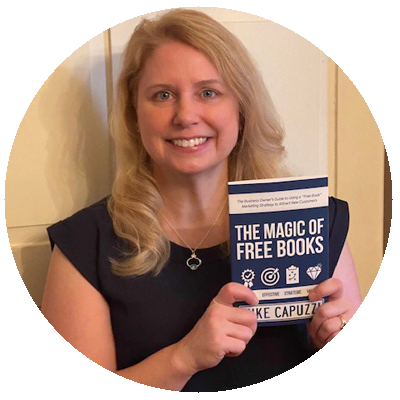 "Mike has done it again!"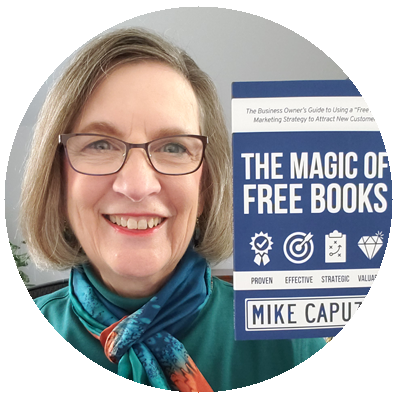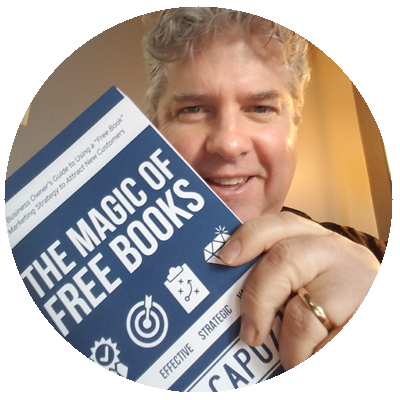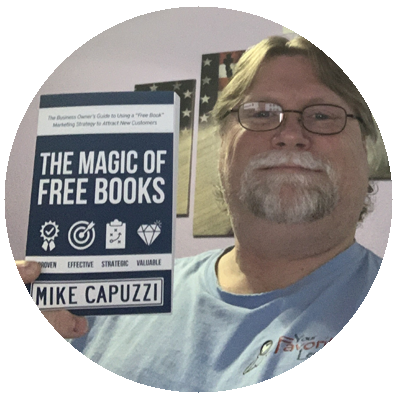 "Actionable marketing ideas!"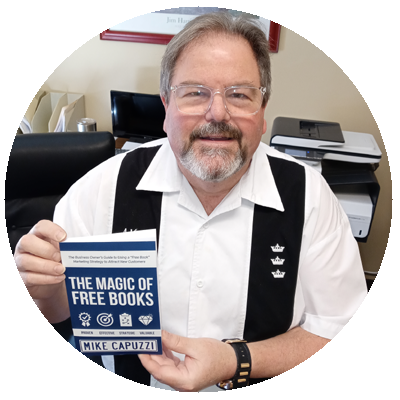 "Cannot wait to implement."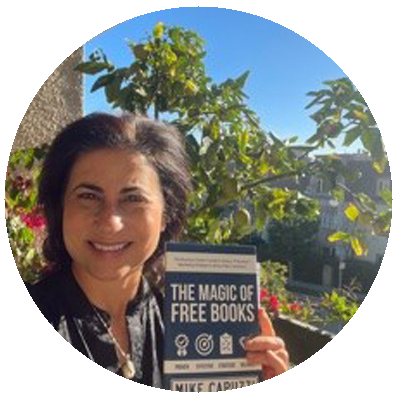 "Packed with tips I can use."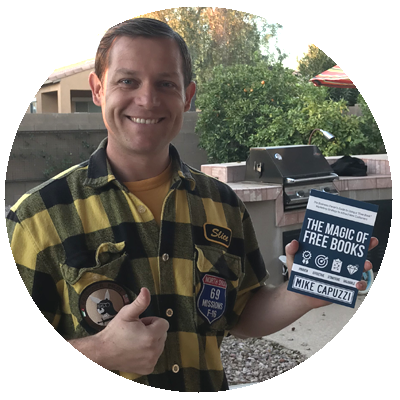 Powerful. Pithy. Profitable.
In this 168-page book, I share 51 proven tactics you can leverage to get your free book into as many ideal readers hands as possible.
This is not an in-depth "how to" book, but instead is a collection of short "marketing with a free book" tips.
I wanted The Magic of Free Books to be a quick and powerful "idea generator" (and money-maker) for you without bogging you down with details. There are plenty of resources available to learn more about a specific tactic I share.
Each tactic is described on single page and is accompanied by a related image to further help you realize the potential of the tactic I am sharing.
Here Are a Few of the Book Marketing Tactics You'll Discover In The Magic of Free Books
Here's a sneak peak at what you'll discover inside this new book:
A history of the free book offer (page 13).
The best photos and images to use to promote your book (pages 37-43).
One of my most effective ways to promote my books (page 61).
A time-tested "local marketing" tactic that still works today (page 89).
An effective and interactive way to share your book online (page 123).
Perhaps the easiest thing you can do (page 33).
My #1 tactic for getting in front of other peoples' customers (page 49).
The tactic the top marketers use every day (page 83).
My secret way to WOW! prospects and customers (page 113-115).
Super-smart ways to leverage your book (pages 125-127).
Implement a Few of These Tactics and Turn a Free Book Into Profits In Your Business!
You Can Only Get The Magic of Free Books Here...
The Magic of Free Books is only available via this exclusive and private offer. You will not find it on Amazon or any other online retailer.
During this limited time offer, I will pay for the book and all I ask is that you help me cover the shipping and handling cost and we'll send it anywhere in the world!
Act now and...
GET THESE BONUSES WORTH OVER $125!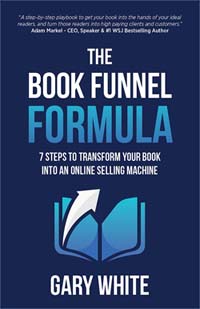 The Book Funnel Formula is an excellent short, helpful book written by my client and book funnel expert, Gary White. In this exclusive online edition, which you can read on any smart phone, tablet or computer, Gary shares his immense wisdom on how to build a profitable book funnel. A properly built book funnel can be a gamechanger for your business and Gary clearly lays it all out in The Book Funnel Formula.  VALUE=$19.95.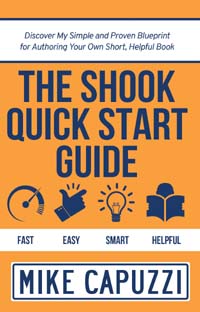 The Shook Quick Start Guide is a helpful guide that shows my exact blueprint for writing short, helpful books. Inside this exclusive, online edition of The Shook Quick Start Guide, you will find my proven shook recipe for what to think about and include in your own shook. Everything you need to think about, plan and write is laid out in plain and simple language. If you follow my lead, the resulting shook will become one of your most effective and profitable marketing assets for your business for years to come! VALUE=$9.95.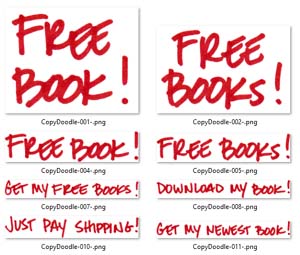 The CopyDoodles® "Book Marketing" Edition is my own private collection of 126 CopyDoodles. This exclusive collection of book-themed doodles allows you to add the power of hand-drawn graphics to your various print and digital marketing campaigns. Value=$97.00.
100% Satisfaction Guarantee
I have been selling online since 2006 and my refund rate is like 0.0001% because I do my best to ensure all my products and services are of the highest quality and value.
However, I get you may not know me that well, so I want you to know I guarantee you'll love The Magic of Free Books or I will refund your shipping cost and let you keep the book and bonuses anyway!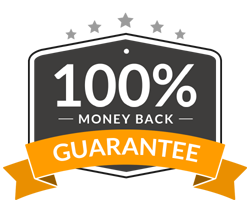 Mike Capuzzi is a publisher, author of 14 books, including the Amazon #1 Best Seller, The 100-Page Book and a marketing strategist or business owners looking to uniquely position themselves, differentiate their business and attract new customers easily by authoring and publishing a short, helpful book.
Throughout his two+ decades as a marketing strategist, Mike's innovative use of high impact marketing has consistently surpassed the expectations and outcomes of traditional marketing concepts and business strategies for his clients.
His expertise has led him to be a guest speaker on the stages of some of the world's most foremost experts on marketing, including Dan Kennedy and Bill Glazer. To date, Mike has helped thousands of business owners around the world create more effective and profitable marketing.
To learn more about Mike, visit MikeCapuzzi.com.